"Is Coolife luggage good?" This question frequents the minds of many travelers as they embark on their quest for the perfect travel companion. When it comes to luggage, there's a delicate balance between style, durability, and affordability that needs to be struck.
Coolife Luggage claims to tick all those boxes, but how well does it hold up under real-world conditions? In this review, we'll delve deep into the ins and outs of Coolife Luggage, examining its features, build quality, and customer experiences to help you make an informed purchasing decision.
Things To Consider Before Buying Luggage For Travelling
A suitable piece of luggage is often the difference between an enjoyable and a stressful trip. To ensure that you have the best journey possible, it is important to consider a few factors before making your purchase.
Size and Weight
When you're in the process of purchasing your travel luggage, it's important to carefully consider the size and weight that best suit your specific needs.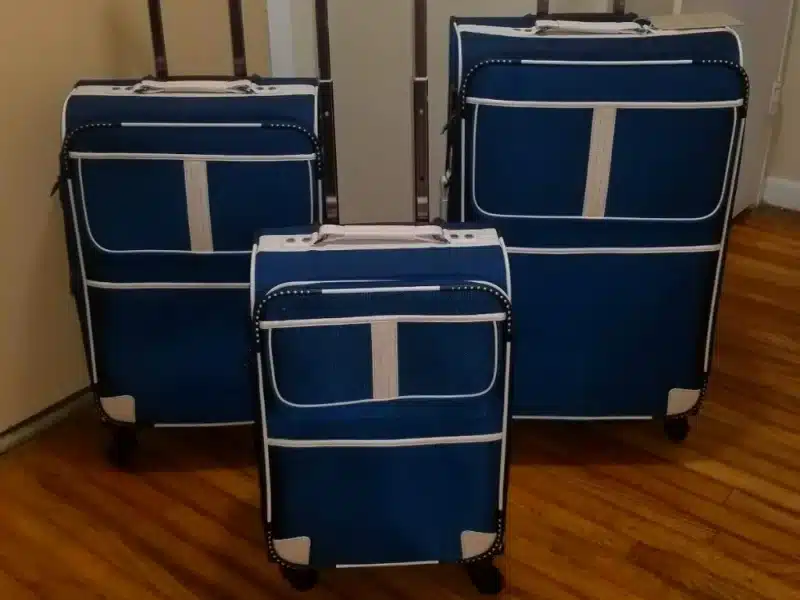 Opting for lightweight luggage can bring many benefits, particularly regarding air travel. Not only does it allow for ample packing space, but it also ensures that you stay within the weight limits imposed by airlines.
However, it's equally crucial to ensure that the luggage you choose is spacious enough to comfortably accommodate all your essential belongings, making your journey hassle-free and enjoyable.
Material and Durability
Regarding the durability of your luggage, the material plays a crucial role. Hard-shell suitcases made of polycarbonate or ABS are not only incredibly robust and resistant to water, but they also offer excellent protection for your belongings.
On the other hand, soft luggage made of high-quality nylon or polyester fabrics provides flexibility and lightweight convenience, making it easier to maneuver through crowded airports and tight spaces.
Mobility
When selecting luggage, mobility is a crucial factor that should not be overlooked. Imagine effortlessly gliding through airports and sidewalks with a suitcase equipped with smooth-rolling, multi-directional wheels.
Not only does it make your travel experience much easier, but it also saves you from the hassle of struggling with heavy bags. Additionally, adjustable handles offer a personalized touch, ensuring maximum comfort while you navigate through crowded spaces.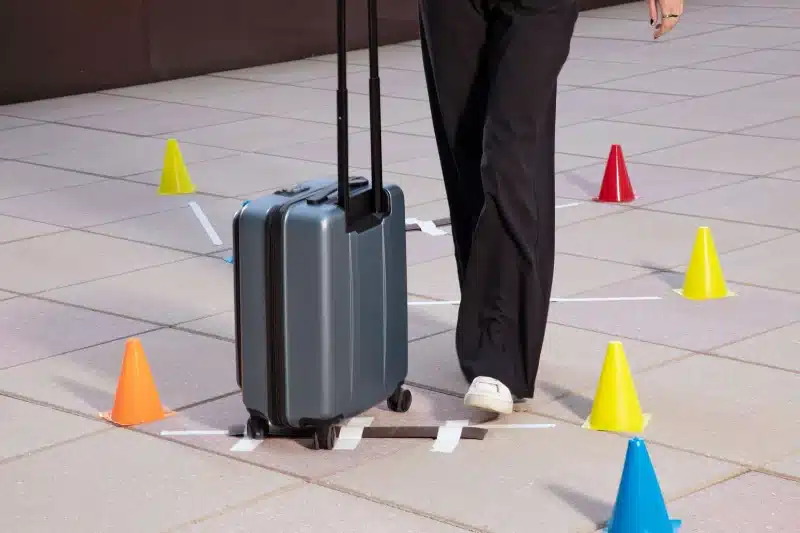 Security Features
When it comes to traveling, security should never be compromised. One way to enhance security is by opting for luggage with lockable zippers and TSA-approved locks. These additional measures provide peace of mind and ensure that your belongings are well-protected.
Moreover, some luggage even offers advanced tech features like GPS tracking, allowing you to keep a close eye on your bags at all times.
Price and Warranty
Consider your budget and the warranty offered by the luggage brand. Expensive luggage often comes with a longer warranty and superior customer service. However, there are also affordable options that offer good value for money. Always remember to read reviews before making your final decision.
Is Coolife Luggage Good?
Yes. Coolife is a well-respected brand renowned for its innovative and high-quality travel gear. Committed to making travel easy and enjoyable, Coolife offers a wide range of products, including durable luggage, backpacks, and travel accessories.
Its products are characterized by modern design, functionality, and longevity, ensuring they stand up to the rigors of travel. Coolife continuously strives to meet the evolving needs of today's travelers, striking a balance between style and practicality.
Coolife luggage is indeed a good option for many travelers due to its durability, design, and affordability. These suitcases are made from hard-wearing materials like ABS or polycarbonate, ensuring they can withstand the rigors of frequent travel.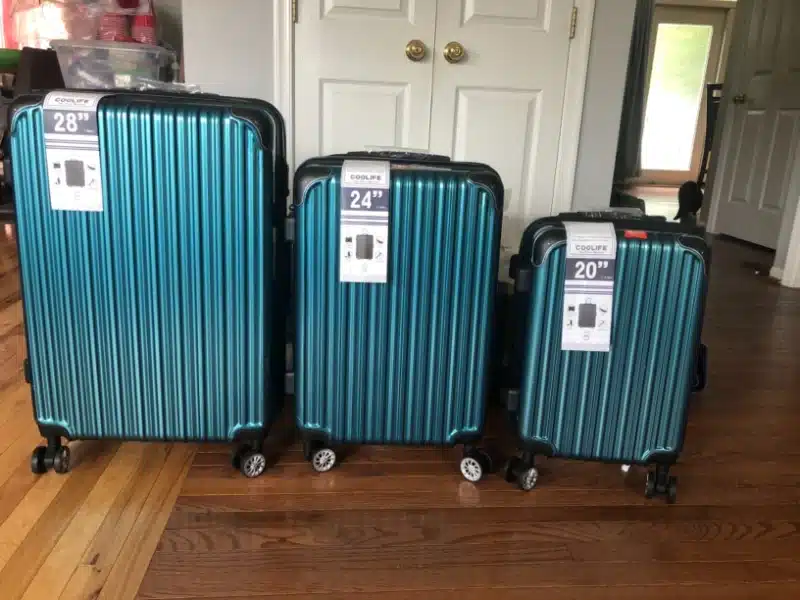 Their designs are modern and stylish, with a variety of color options catering to different aesthetic preferences. Additionally, Coolife luggage comes with features like multi-directional spinner wheels and ergonomic handles, which add to the convenience of handling them.
The competitive pricing of Coolife luggage, especially when compared to other brands offering similar features, makes them an attractive choice for those seeking value for money. However, like any product, they may not be the best fit for everyone, as individual needs and preferences can vary greatly.
Coolife luggage is ideal for travelers who place a premium on convenience, durability and aesthetics. On the other hand, those seeking to save money while sacrificing quality may be better off looking elsewhere. Ultimately, it's up to each traveler to decide which luggage best suits their needs.
Pros:
Durable materials used to make the luggage
Modern and stylish designs catering to different aesthetic preferences
Multi-directional spinner wheels and ergonomic handles for convenient handling
Affordable pricing compared to other brands offering similar features
The lightweight design makes it easy to transport
Cons:
Limited range of size and color options
It may not be suitable for travelers who want to save money while sacrificing quality
Wheel covers may need to be replaced every few years depending on usage
Coolife Luggage 3-Piece Set Overview
COOLIFE Luggage 3 Piece Set Suitcase Spinner Hardshell Lightweight TSA Lock 3 Piece Set (sakura pink)
Warranty:Two Years Warranty. Please note that ONLY FAMILY SET has 4 pcs, please ignore the product's title and select the set you want.
3 piece luggage set 20 inch,24 inch,28 inch upright, can be stored one into another.100% ABS, Lightweight yet extremely durable abs material.
Spinner wheels, multidirectional smooth and silent 360°wheels. Upgrade With TSA-Accepted Lock for security and peace of mind.
Sturdy ergonomic aluminum telescoping handle
Interior mesh zip pocket and elasticated,Squared full-capacity design
As an avid traveler, I've found the Coolife Luggage 3 Piece Set to truly rise above the competition. The three suitcases in this set, sized 20, 24, and 28 inches, nest neatly inside one another for convenient storage when not in use. Constructed with 100% ABS material, they strike the perfect balance between lightness for easy maneuverability and durability to withstand the rigors of travel.
One of the standout features for me has been the spinner wheels. Their 360° rotation is impressively smooth and quiet, making the luggage a breeze to handle in crowded airports and bustling city streets. The upgrade to a TSA-approved lock offers an extra layer of security, giving me peace of mind knowing my belongings are safe during transit.
The aluminium telescoping handle is both sturdy and comfortable to hold, impressively reducing the strain on my hand during extended periods of travel. Inside, the suitcase offers ample room for all my travel necessities. The inner mesh zip pocket and elasticated waistband help keep my belongings organized, and the full-capacity square design ensures no space is wasted.
After using the Coolife Luggage 3 Piece Set, I can confidently say it's an excellent choice for any travel enthusiast looking for reliable, stylish, and practical luggage.
Features & Benefits of Coolife Luggage
Coolife luggage offers a variety of features and benefits that make it an ideal choice for travelers. Its hard-wearing construction, sturdy wheels, comfortable ergonomics, and expandable capacity all come together to give users the ultimate baggage experience.
Durability
Coolife Luggage is widely acclaimed for its exceptional build quality that surpasses expectations. Meticulously crafted with lightweight yet durable ABS material, this luggage is designed to withstand the demanding nature of frequent travel.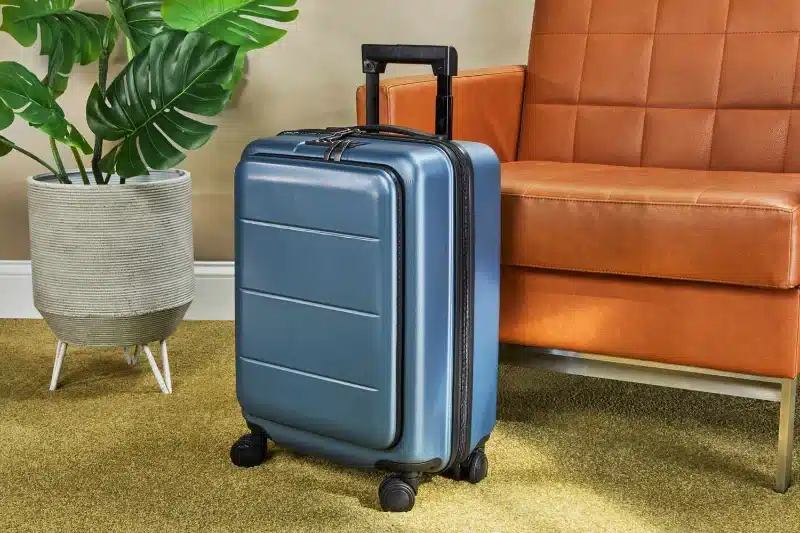 Its robust hard shell offers unparalleled resistance to impacts and scratches, providing the utmost protection for your valuable belongings. Moreover, the smooth and reliable zippers, along with the reinforced handles, ensure long-lasting performance and durability that you can rely on time and time again.
Innovative Design
One of the impressive features of Coolife Luggage is its innovative design. The luggage is equipped with multi-directional, silent spinner wheels, making it incredibly easy to maneuver in any direction. Whether you're navigating through crowded airports or busy streets, these wheels ensure a smooth and hassle-free travel experience.
Additionally, the telescoping handle is adjustable to multiple heights, enhancing the luggage's ergonomics. This means that travelers of different heights can effortlessly pull the luggage without straining their arms or back. With its thoughtful design and attention to detail, Coolife Luggage truly prioritizes comfort and convenience for travelers.
Spacious and Organized Interior
One of the standout features of Coolife Luggage is its exceptionally spacious and well-organized interior. The main compartment, with its ample depth, provides ample space for storing clothing and a wide array of travel essentials.
Moreover, the fully lined interior with strategically placed zippered dividers guarantees not only the secure organization but also a meticulous arrangement of items, ensuring that everything stays neatly in place throughout your journey. This thoughtful design feature truly makes packing and unpacking a breeze, ultimately contributing to a stress-free and enjoyable travel experience.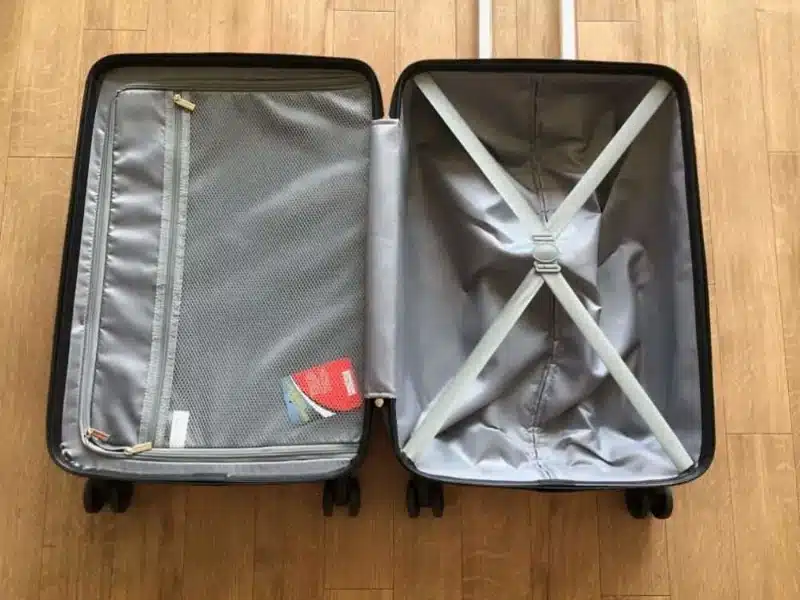 Security Features
Safety is of utmost importance for Coolife Luggage. With their integrated TSA-approved combination locks, you can have peace of mind knowing that your valuables are protected against theft and tampering. The ultra-durable zippers add an extra layer of security, ensuring that your belongings stay safe throughout your travels.
To provide even more reassurance, Coolife Luggage also offers a generous 2-year warranty, guaranteeing the quality and durability of its product. Travel with confidence, knowing that your belongings are well-protected with Coolife Luggage.
Style & Variety
Coolife Luggage offers a diverse selection of colors and styles, providing abundant choices to cater to every traveler's unique taste and preferences. Whether you prefer the timeless elegance of classic black or the lively vibrancy of bold hues, there is a perfect match awaiting you.
Moreover, the sleek and stylish design of our luggage is meticulously crafted to not only accommodate your belongings but also make a fashion statement that turns heads and exudes confidence as you embark on your journey.
Coolife Luggage Alternatives
Coolife luggage is always the perfect travel companion, no matter where your next destination takes you. However, if you want to try other alternatives, here is a quick overview of three of the top choices.
Mia Toro Italy Accera Hardside Spinner Luggage
Mia Toro Italy Accera Hardside Spinner Luggage 3 Piece Set,Slate, One Size
Embossed ridged contemporary design with armored corners; light weight Armor; flex composite-polished Brush finish that provides rich and vibrant color; ergonomic gel grip handle; light weight trolley;
Dura-lock TSA friendly design-flex pack design expands 2" to add 25% more packing space-glide-tech dual wheel multidirectional 360 degree dual wheel provides smooth and stable motion; zipper divider- a fully zippered panel creates a second compartment to keep your possessions organized; compression straps and clasp are easy to use and keep your personal items secure
World wide 10 years cloud protection warranty which covers your claims within 24 hours with the part simply shipped to you. You don't even have to call US! it is the world's first virtual warranty. Totally hassle free and no worries.
Dimension (height-length-width): 20in x 14in x 9in, 24in x 17.75in x 11.75in, 28in x 21.25in x 12.5in
13.5x22.5x33
I recently had the pleasure of using the Mia Toro Italy Accera Hardside Spinner Luggage, and I must say it exceeded my expectations.
The embossed, ridged modern design coupled with armored edges gave the luggage an appealing aesthetic while assuring me of its durability. I especially appreciated the lightweight Armor and the stunning flex composite-polished Brush surface, which maintained a bright and rich color throughout my journey.
The ergonomic gel grip handle provided comfort, reducing strain during transit. I was impressed by the lightweight trolley, which was sturdy yet easy to maneuver. An outstanding feature was the TSA-friendly Dura-lock which ensured the security of my belongings without causing any hiccups at the checkpoints.
Another notable feature was the flex pack design which, to my delight, stretched by 2″, providing 25% additional packing space. This came in handy when I had a little extra to pack for my return journey. The glide-tech dual wheels offered smooth and steady mobility, making navigation through crowded airports a breeze.
The luggage boasts a completely zipped panel which contributed significantly to keeping my belongings organized. The compression straps, equipped with a simple clasp, were exceptionally easy to use and kept my personal items secure.
The Mia Toro Italy Accera Hardside Spinner Luggage is a blend of style, functionality, and durability. It offers an array of features designed to enhance travel convenience, making it a worthy investment for any frequent traveler.
Pros:
Embossed ridged design for an attractive aesthetic
Lightweight armor and flex composite-polished brush surface for durability
Ergonomic gel grip handle for comfort
TSA-friendly Dura lock with secure closure
Completely zipped panel for organization
Compression straps with simple clasp for secure storage
Cons:
Not suitable for rough terrain due to delicate wheel structure
Rigid exteriors may be difficult to fit inside compartments
Level8 Elegance Luggage Set
Sale
LEVEL8 Elegance Luggage Set, PC Matte Hardshell Suitcases - Navy Blue, 20/24 Inch
【2 Sets of 20inch+24inch】Top quality luggage sets,20in is best for carryon, 24in expands 20% for more Spaces. Capacity : 20in38L/ 24in68L.
【Organizer Set Included】 The water-repelled organizer bag set helps you pack cleanly and stay organized as if you were at home.
【100%PC Material】This suitcase is durable, water-resistant, and made of 100% Makrolon polycarbonate hardshell. Not only is this piece of luggage strong, it's easily cleaned.
【Elegance Matte Suitcases】Matte surface finish to prevent against scratches, keeping cases beautiful after a trip.
【Lifetime Warranty】Lifetime warranty from LEVEL8 and friendly 24 hours customer service. Ensure a secure long-lasting usage everyday and weekend.
I recently had the opportunity to use the Level 8 Elegance Luggage Set on my travels, and I was thoroughly impressed by its quality and functionality.
The Makrolon polycarbonate hard-shell construction of the suitcases exudes durability. I was particularly pleased with its water resistance – an unexpected downpour didn't affect my belongings at all, a testament to the robustness of this luggage set.
Cleaning the suitcases was a breeze, too, thanks to the easy-to-clean material. The matte finish not only adds elegance but also practically reduces visible scratches, maintaining the aesthetics even after multiple trips.
The included set of organizers was another highlight for me. These water-resistant bags offered an easy solution to keeping my items neatly arranged, much akin to my at-home organization.
The Level8 Elegance Luggage Set successfully blends style and substance, providing a travel solution that is as elegant as it is sturdy. It's a worthwhile investment for any frequent traveler.
Pros:
Makrolon polycarbonate hard-shell construction for durability
Water-resistant to keep belongings safe during rain
Easy to clean and maintain aesthetics with a matte finish
Set of organizers for neat item arrangement
Combines style and substance into one package
Cons:
Costly investment but worth it for regular travelers
Heavy due to the robust construction material
Samsonite Omni PC Hardside Expandable Luggage
Samsonite Omni PC Hardside Expandable Luggage with Spinner Wheels, 3-Piece Set (20/24/28), Black
Set includes 20" carry on (Meets carry-on size restrictions for those traveling domestically and looking to stay light) and 24"/28" spinners (Maximize your packing power and the ideal checked bags for longer trips)
10 year limited warranty: Samsonite products are rigorously tested to ensure our products meet stringent standards. This bag comes with a 10-year warranty against defects in materials and workmanship.
Micro-diamond polycarbonate texture is extremely scratch-resistant, keeping cases beautiful trip after trip
Side-mounted TSA locks act to deter theft, ensuring that only you or a TSA agent have easy access to your belongings when traveling
4, multi-directional oversized spinner wheels for effortless mobility, re-engineered lightweight
I recently purchased the Samsonite Omni PC Hardside Expandable Luggage and have been thoroughly impressed by its features.
The micro-diamond polycarbonate pattern is not just aesthetically pleasing but provides fantastic scratch resistance, keeping the cases looking as good as new even after multiple trips. The inclusion of the TSA locks on the sides is a thoughtful security feature, providing me peace of mind during my travels.
The four large multi-directional spinner wheels are a standout feature. They provide effortless maneuverability, making navigating through busy airports a breeze. The lightweight construction of the luggage, despite its sturdy build, deserves special mention too.
Inside the main compartment, the zippered modesty pocket is an excellent addition for storing personal items. The mesh divider with cross straps is designed cleverly, allowing organized packing and preventing clothes from getting wrinkled during transit.
The push-button locking handles are comfortable to use and pack away conveniently when not in use, adding to the luggage's overall sleek design. The expandable capacity feature was quite beneficial, allowing me to store extra shopping from my travels without any struggle.
Samsonite Omni PC Hardside Expandable Luggage is a high-quality, feature-rich luggage set that I would highly recommend to any frequent traveler.
Pros:
Exceptional scratch resistance thanks to the micro-diamond polycarbonate pattern
Inbuilt TSA locks offer enhanced security during travel
Large multi-directional spinner wheels ensure effortless maneuverability
Lightweight yet robust construction optimizes portability without sacrificing durability
Thoughtful internal design features, including a zippered modesty pocket and a mesh divider
Expandable capacity accommodates extra luggage with ease
Cons:
It may be slightly expensive, though the quality justifies the price
The glossy finish, while attractive, may show fingerprints
Larger size options might not fit in all airline overhead compartments
FAQs
Does Coolife Luggage Come With A Warranty?
Yes, Coolife Luggage comes with a warranty. The company offers a two-year warranty for all their luggage products. This warranty covers manufacturing defects and issues that occur during normal usage.
However, it's important to note that damages caused by misuse, neglect, accidents, abrasion, exposure to extreme temperatures, solvents, acids, water, and normal wear and tear are not covered under this warranty.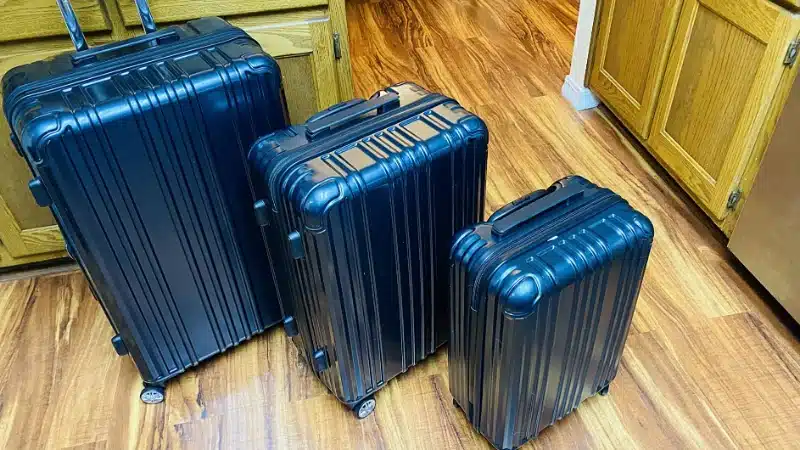 How Does The Locking Mechanism Work On Coolife Luggage?
The locking mechanism on Coolife Luggage is a combination lock designed to enhance the security of your belongings.
To set it, locate the tiny reset button on the side of the lock. You'll need a pen or a small tool to push the button – hold it down while you dial your desired combination on the front. Once set, release the button. Your combination is now set. To unlock, enter your combination and push the button on the top of the lock.
Remember to keep your combination safe and confidential. If forgotten, unlocking can become a challenge. The lock is a TSA-approved type, meaning that TSA agents can open it with a master key if necessary, ensuring your luggage's security while complying with airport regulations.
Does Coolife Luggage Offer Hard Shell Suitcases?
Yes, Coolife Luggage does indeed offer hard-shell suitcases.
Coolife is known for its wide variety of robust, high-quality luggage options, and its hard-shell suitcases are no exception. These cases are made from durable materials like ABS and polycarbonate, known for their strength and lightweight properties.
These suitcases are designed to withstand the rigors of travel while providing ample space for your belongings. Furthermore, they often come equipped with smooth-running spinner wheels for easy maneuverability, secure locking systems for added security, and various compartments for efficient packing.
Whether you are a frequent flyer or an occasional traveler, a hard-shell suitcase from Coolife may just be the reliable travel companion you are looking for.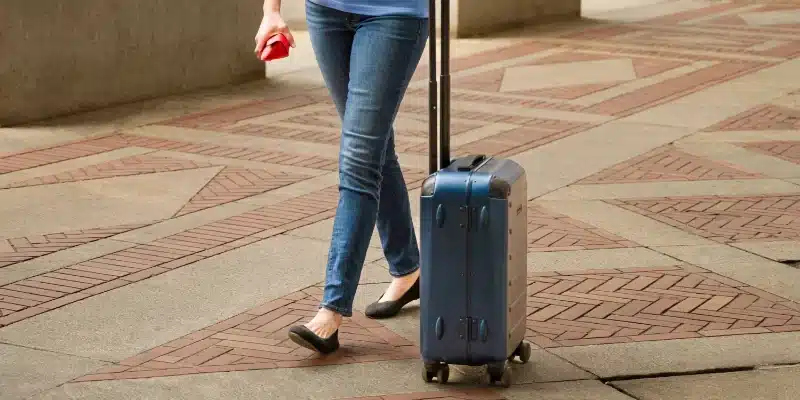 Are There Any Color Options Available In Coolife Luggage?
Yes, Coolife Luggage comes in a variety of color options to cater to different personal preferences.
Customers can choose from classic solid colors such as black, silver, and navy blue, which are great for those seeking a professional or sleek look. Alternatively, if you prefer something a bit more vibrant, they also offer options in red, purple, and even some special patterns.
Keep in mind that color availability might vary based on the specific model and size of the luggage. It's best to check the product details on the Coolife Luggage official website or authorized retailers for the most accurate information.
How Should I Clean Or Maintain My Coolife Luggage?
To maintain your Coolife Luggage, regular cleaning is key. Start by emptying your luggage and shaking out any debris. Use a vacuum brush attachment to clean the interior.
For exterior cleaning, a damp cloth with mild soap should suffice, but avoid soaking the luggage. Wipe down zippers to remove dirt and grime, ensuring they function smoothly. If you've been traveling in damp or humid conditions, leave your luggage open in a dry, well-ventilated area to prevent mildew.
Always check the manufacturer's care instructions before cleaning. For persistent stains or odors, professional cleaning may be necessary. Remember, routine maintenance can extend the life of your luggage and ensure it remains in top condition.
Conclusion
Is Coolife Luggage good? After an in-depth review and collecting real user experiences, it's fair to say that Coolife Luggage is a worthy investment. It combines durability, style, and convenience at a competitive price point.
With its spacious compartments and sturdy construction, it caters to both casual and frequent travelers. However, as with any product, it's essential to consider your specific needs and preferences before making a purchase. Coolife Luggage, indeed, offers a balance of quality and affordability that is hard to overlook in travel gear.