What luggage do pilots use? The answer is as unique as the professionals themselves. Pilots, often on the move, rely on certain types of luggage to keep their essentials organized and secure.
This article unpacks the specifics of what kinds of suitcases, bags, and carry-ons airline professionals prefer and why these choices significantly affect their day-to-day operations. Let's delve into the world of aviation luggage and discover the secrets behind the bags of those who navigate the skies.
Pilot Luggage Requirements
Choosing the right luggage for a pilot is more than just selecting a stylish suitcase. It's about finding a bag that meets specific requirements and supports the unique needs of a pilot on duty.
Size And Weight Restrictions
A pilot's luggage must adhere to strict size and weight restrictions, ensuring compact enough to fit into the aircraft's cockpit storage areas. Additionally, it should be lightweight for easy carry during layovers yet spacious enough to accommodate personal items, flight documents, and necessary equipment.
Balancing functionality and practicality becomes crucial as pilots navigate their demanding schedules and travel requirements.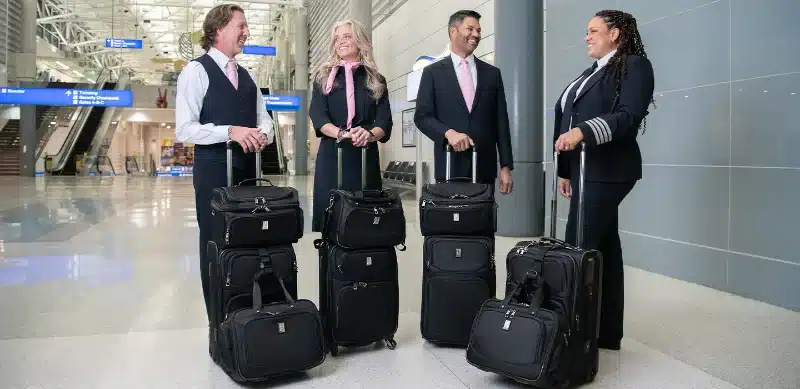 Durability And Protection For Sensitive Equipment
Durability is a crucial factor to consider when choosing pilot luggage. The bag must withstand the demanding and often unforgiving nature of frequent travel. From being stowed away in tight and cramped spaces to exposure to various weather conditions, the luggage must be tough and resilient.
Additionally, it should provide exceptional protection for sensitive equipment essential for pilots, such as headsets, GPS devices, and flight manuals. With a durable and reliable bag, pilots can have peace of mind knowing that their equipment is safe and secure, allowing them to focus on what they do best – flying.
Organizational Features For Easy Access During Flights
When it comes to pilot luggage, it is crucial to have well-designed compartments and pockets that offer seamless organization. These intelligently designed storage spaces ensure easy access to essential items during a flight, including maps, logbooks, tablets, and other necessities.
The layout of these compartments should be intuitively arranged, allowing pilots to swiftly locate their belongings while in the cockpit, minimizing any time spent searching and maximizing efficiency and focus on flying.
With the right luggage, pilots can confidently navigate their tasks, knowing that everything they need is available and within reach.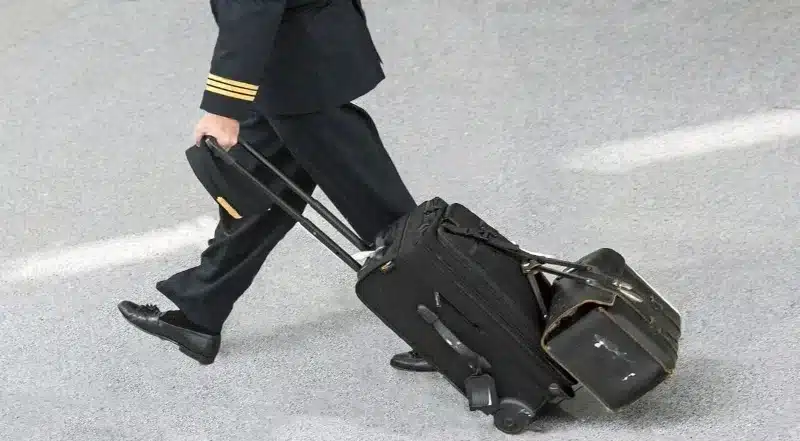 What Luggage Do Pilots Use?
Pilots generally use durable, practical, and easy-to-maneuver luggage. They often opt for roller bags designed specifically for airline crew. These bags are usually engineered to fit perfectly in the aircraft's overhead compartments and under the seats.
Brands like Travelpro, Luggage Works, and Briggs & Riley are widely used because they offer high-quality pilot bags that can withstand the rigors of constant travel. These bags typically have robust wheels, retractable handles, and a sturdy casing to protect contents.
Some pilots also carry a flight or aviator bag to store their essential flight gear, such as headsets, navigation tools, and personal items.
Types Of Luggage Used By Pilots
Pilots require specific types of luggage to accommodate their unique travel needs. These bags are designed to be sturdy, compact, and convenient for the frequent and often rigorous journey pilots undertake.
Pilot Briefcases
Pilot briefcases are typically made of hard-shell material to protect sensitive documents and electronics. They come with multiple compartments for organized storage and are compact enough to fit in an aircraft's cockpit.
Rollaboard Luggage
Rollaboard luggage is a staple for many pilots. Their telescopic handles and wheels provide easy maneuverability, essential for navigating busy airports. These bags are designed to fit in the overhead compartment of most planes and have ample space for uniforms, personal items, and overnight essentials.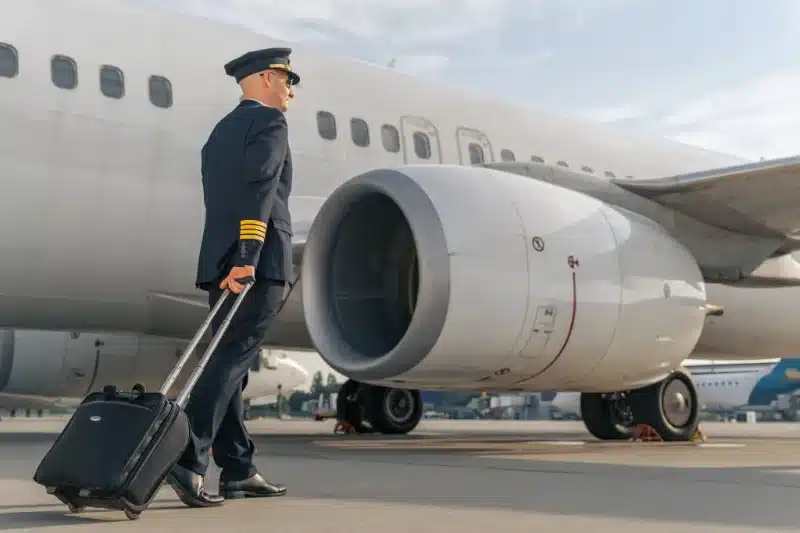 Flight Bags
Flight bags are designed specifically for cockpit use. These bags have specialized pockets and compartments for storing maps, charts, flight logs, and other necessary aviation tools. They are compact and designed to fit in small cockpits without obstructing the pilot's space.
Overnight Bags
For longer trips, pilots may require an overnight bag. These bags are usually larger than the other types of luggage pilots use and have plenty of room for clothes and toiletries. Some even feature a separate laptop compartment to safely store laptops or tablets in transit.
Backpacks
Backpacks are popular for pilots carrying their items between airports and planes. They are lightweight and provide extra comfort with adjustable straps and hip belts. Backpacks can also store clothing, snacks, books, and electronic devices.
Personal Item Bag
A personal item bag is essential for pilots and crew members who need their items easily accessible during flight. These bags are designed to meet airline requirements and usually feature multiple compartments for storing wallets, keys, documents, phones, and other small items. They can also come with a detachable shoulder strap for comfortable transport.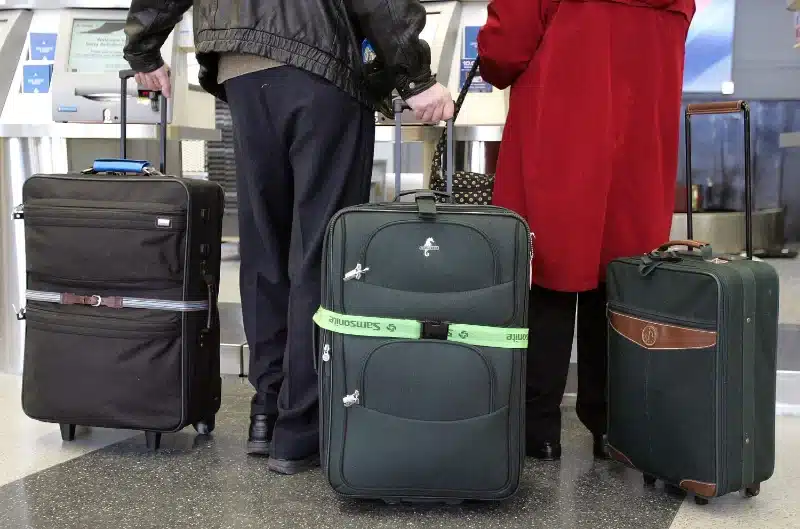 No matter which type of luggage pilots use, they must ensure their items are secure and easily accessible during flight. Using specialized bags designed for aviation use, pilots can have a more efficient journey with less hassle.
Factors To Consider When Choosing Luggage For Pilots
When selecting luggage for pilots, there are a few important factors to consider: weight and size restrictions imposed by airlines, durability and sturdiness, specific compartments or pockets for storing pilot essentials, and ease of mobility in airports or aircraft.
Weight And Size Restrictions Imposed By Airlines
Most airlines have strict limits on the weight and size of baggage that can be carried in the cabin or checked. This means that pilots must carefully consider these restrictions when choosing their luggage.
They must select an ideal bag that not only stays within the weight limit but also comfortably fits within the specific profile specified by the airline. Baggage with rigid frames, such as hard suitcases, is often more likely to meet the weight requirements than bags without such frames.
Additionally, it is worth noting that airlines may have different weight and size restrictions for different types of baggage, such as carry-on bags or checked bags.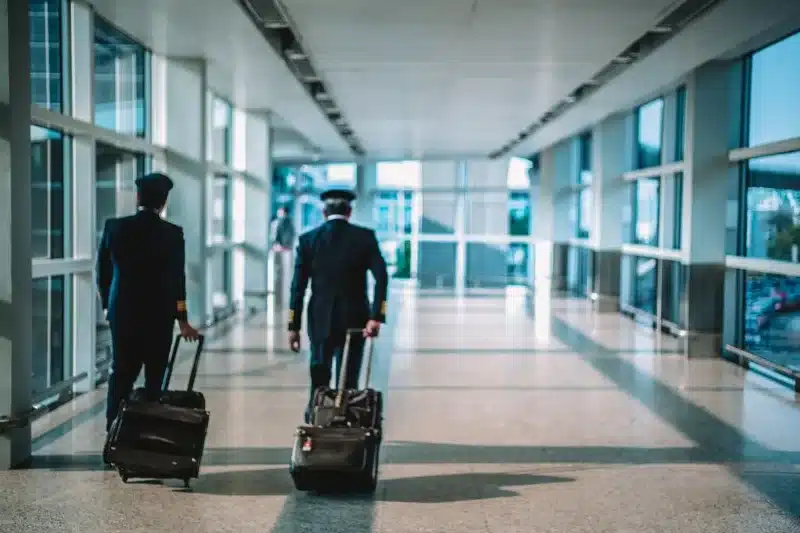 Durability And Sturdiness
Regarding the frequent travel involved in piloting, having durable and sturdy luggage is of utmost importance. Not only should it be able to withstand rough handling during transit, but it should also be able to withstand regular wear and tear over time.
That's why materials like polycarbonate or ballistic nylon are often preferred choices among pilots when selecting their luggage. These materials offer exceptional strength and resilience, ensuring their belongings stay safe and secure throughout their journeys.
Specific Compartments Or Pockets For Storing Pilot Essentials
Certain bags have specific compartments and pockets designed to store pilot essentials such as maps, documents, or electronic devices for added convenience and functionality. These intelligently designed storage solutions ensure that pilots can easily access their important items while in transit, saving precious time and effort.
Additionally, the well-organized layout of these bags helps keep everything neatly arranged and readily available whenever needed, further enhancing efficiency and ease of use.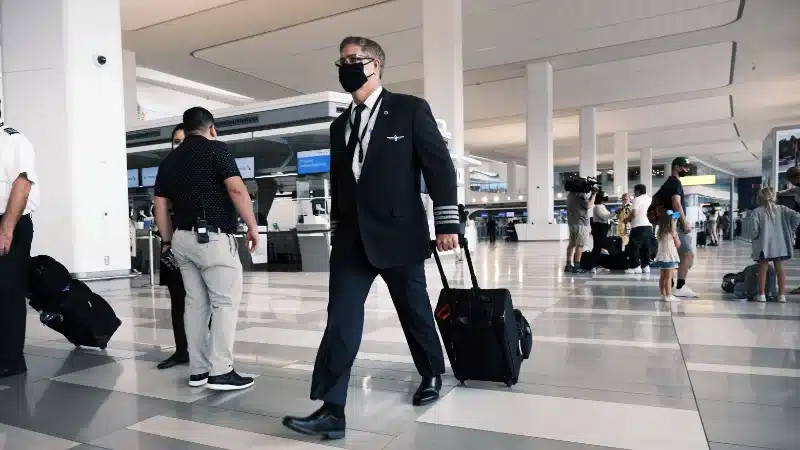 Ease Of Mobility And Maneuverability In Airports Or Aircraft
As frequent travelers, pilots require a luggage solution that offers convenience and ease of movement upon arrival at airports or aircraft. The perfect bag should come with sturdy wheels, ergonomic handles, and adjustable straps that enable effortless maneuverability even in tight spaces.
An adjustable telescopic handle adds a practical touch, allowing pilots to effortlessly modify the bag's height based on their specific needs and preferences. With these thoughtful features, pilots can navigate their journeys efficiently and comfortably.
Selecting luggage for pilots requires careful consideration of factors such as weight and size restrictions imposed by airlines, durability and sturdiness, specific compartments or pockets for storing pilot essentials, and ease of mobility in airports or aircraft. With this in mind, pilots can find a bag that meets their needs and make their travels more convenient.
Recommendations For Pilots In Choosing Luggage
Quality Above All Else
When choosing luggage as a pilot, investing in something high-quality and built to last is important. Doing research and reading reviews can help you make an informed decision about which brand or model might be best for your needs.
Consider the most important features when selecting the right bag, such as size, weight capacity, maneuverability, durability, and ease of access. High-end brands often come with a lifetime warranty to ensure you get the most out of your purchase for many years.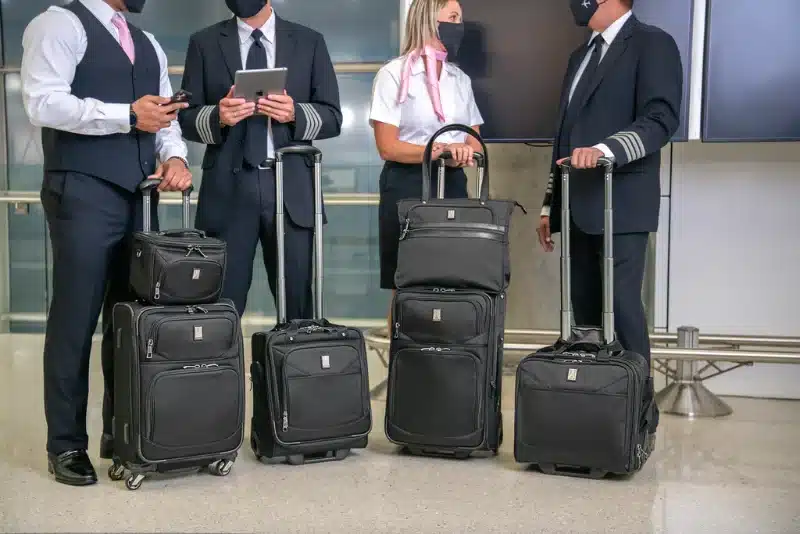 Consider Weight And Mobility
Pilots must know their luggage's weight and mobility to safely transport it on planes. A lightweight bag with wheels and a telescoping handle will make it much easier to maneuver through airports or other transportation hubs.
Tight spaces on planes can also be challenging, so consider a more compact design that is easy to store overhead or in the cabin.
Know Your Needs
Pilots should also consider their individual needs when shopping for checked luggage. Those who frequently travel abroad may prioritize weight limits, while others may need more space and compartments instead.
Various types of bags are available for different purposes, from soft bags to hard cases. Pilots can make informed decisions on what suits them best by assessing the types of items that need to be transported and where else the luggage might go.
Look For Special Features
When selecting luggage, look for special features such as water-resistant material, RFID-blocking pockets, and TSA locks. These features can help keep your belongings safe while minimizing the time you need to spend at security checkpoints.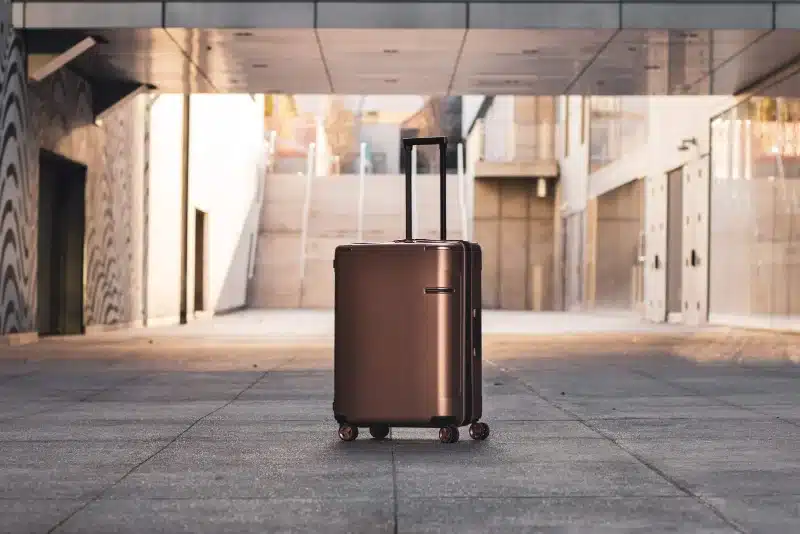 It is also a good idea to look for bags with adjustable compartments that can be reconfigured. Ensure the bag has an ergonomic design that is comfortable to carry or pull behind you for long periods.
This is just a brief overview of the considerations to consider while selecting luggage as a pilot. Doing research and finding the right bag for your needs will ensure that you have a reliable piece of luggage that can help make travel easier, more comfortable, and more secure.
Insights On Packing Techniques For Pilots
Pilots are no different from ordinary travellers when it comes to packing for their travels. However, there are certain tips, tricks and techniques they need to keep in mind when packing their luggage that can make the trip smoother and easier.
Strategy Is Key
The first tip for pilots is to have a plan. Before heading out on any trip – be it for work or pleasure -, pilots should create an organized packing list of the items they must bring.
This will help ensure nothing important is missed and save time on the back end when unpacking. Additionally, pilots should check their destination's climate and plan accordingly – bringing appropriate clothing for expected weather conditions.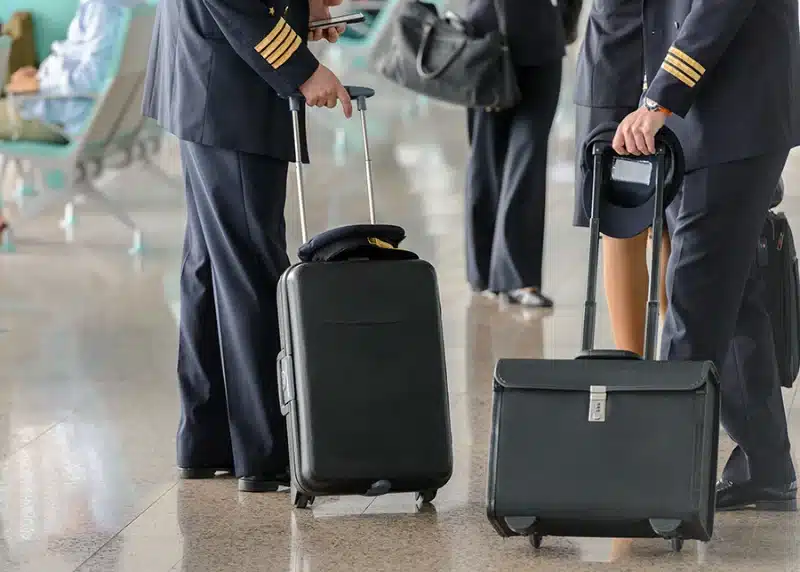 Optimizing Luggage Space
Pilots travel frequently, and their carry-ons must be as compact as possible. Efficient packing techniques like rolling clothes instead of folding, using packing cubes, and prioritizing essentials can create more space.
They can also use multi-purpose items to reduce the amount of luggage. For instance, a tablet can be a personal entertainment system and an e-reader.
Utilizing Checklists
Pilots understand the importance of checklists, which can also be extended to packing. A detailed packing list ensures nothing gets left behind – from uniforms to personal items and emergency essentials. A checklist also aids in streamlining the packing process, making it quicker and more efficient.
Choosing The Right Luggage
When packing for a pilot job, choosing the right type of luggage is important. Lightweight yet sturdy materials like polycarbonate are often best suited for airline travel.
Additionally, many airlines have size restrictions that must be considered when selecting bags and cases. Soft-sided suitcases can also be advantageous as they can expand and contract to accommodate various items.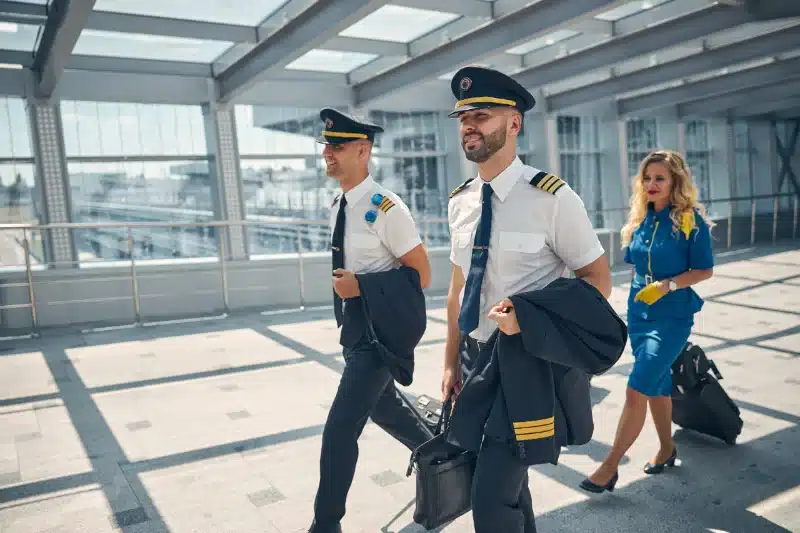 Maximizing Convenience
Pilots must be as time-efficient as possible, so products that maximize convenience are essential. Many suitcases come with organizational features and pockets that make packing easier.
Wheeled suitcases can also save time by making transporting items from one place to the next easier. A well-designed interior can help pilots keep their items secure and organized.
Essentials For Pilots When Packing
Certain items must be included in their luggage for pilots on the go. Here are some of the essentials:
Flight Documents
First and foremost, all necessary documents should be packed before heading out for a trip. This includes passports, tickets and visas. Pilots should also bring additional copies of important documents such as medical insurance cards and driver's licenses.
Uniform And Appearance Items
Pilots should also bring their required uniforms for the job. This includes a shirt, pants/skirt and hat or cap. Depending on the airline, other items, such as a belt and tie, may be needed for the uniform. Packaging these items carefully is important so they remain in good condition.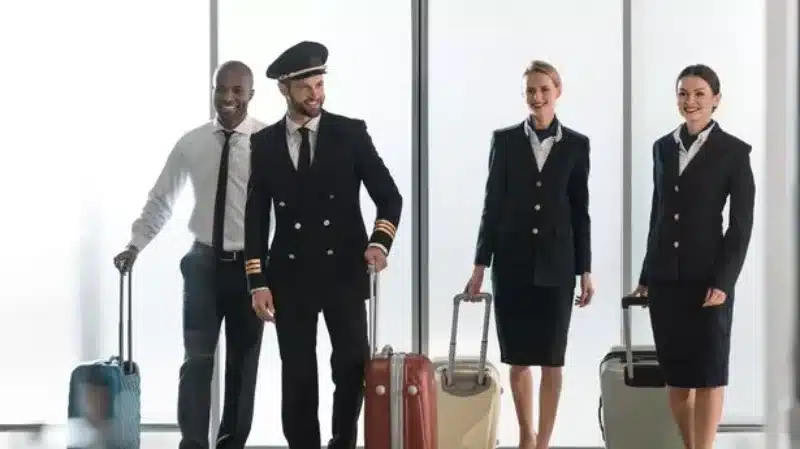 A pilot's uniform is more than just clothing – it symbolizes authority and professionalism. Therefore, ensuring that the uniform, along with necessary appearance items such as shoes, ties, and badges, is packed and in good condition is critical.
Personal Comfort Items
Long flights can be tiring, and personal comfort items can make a significant difference. These can include noise-canceling headphones, a travel pillow, eye masks, and a favorite book or a personal electronic device for entertainment. These items can greatly enhance the comfort of pilots during their travels.
Emergency Essentials
No matter how well-prepared pilots might be, unexpected events may occur. To handle these circumstances, pilots must carry emergency items such as a first aid kit, snacks, flashlights and spare batteries. It is better to be prepared than find themselves in an unfamiliar place without resources if something goes wrong.
Pilots must be well-prepared for any situation they may encounter while on the flight, and having the right luggage and items is essential. By optimizing packing techniques, utilizing checklists, choosing the right type of luggage, and maximizing convenience, pilots can ensure that their travels are safe and comfortable.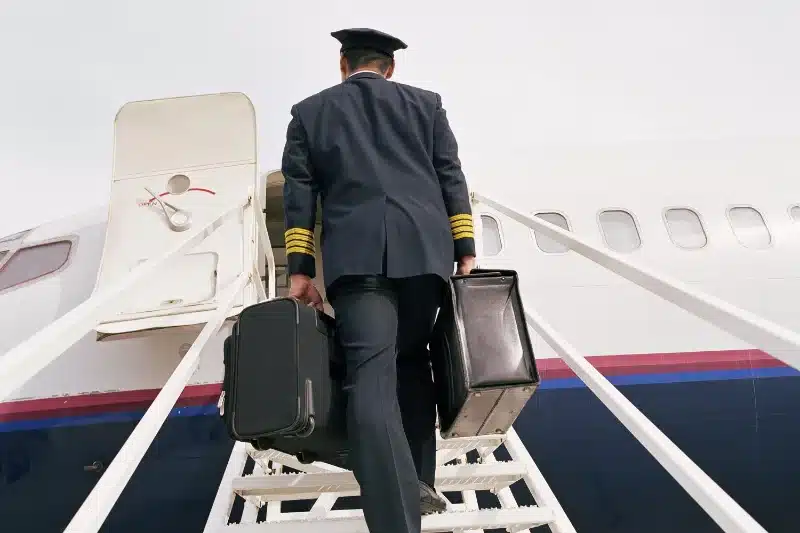 Tips For Choosing A Pilot Backpack
A pilot backpack is a valuable asset for any frequent flyer. The right bag should be lightweight without sacrificing features and storage space and have the capacity to keep items secure while in transit.
Several factors to consider when selecting a proper pilot backpack include size, material, design, and organizational options.
Size
The backpack size should be determined by the number of items to carry. Smaller bags are usually best for pilots as they offer a more streamlined experience in airports and onboard aircraft. However, if larger items such as laptops and documents are needed, it may be necessary to opt for a bigger bag to accommodate them.
Material
The material of the backpack should also be taken into account, as it will have a direct effect on the bag's durability and weight. Lightweight yet sturdy materials such as ballistic nylon or polyester are often optimal for pilots, while leather can provide extra protection against water damage.
Design
Different designs offer different advantages. Pilot backpacks typically come with several compartments to help keep things organized and securely stowed away. Some also feature additional features such as wheels or telescopic handles, making them easier to transport.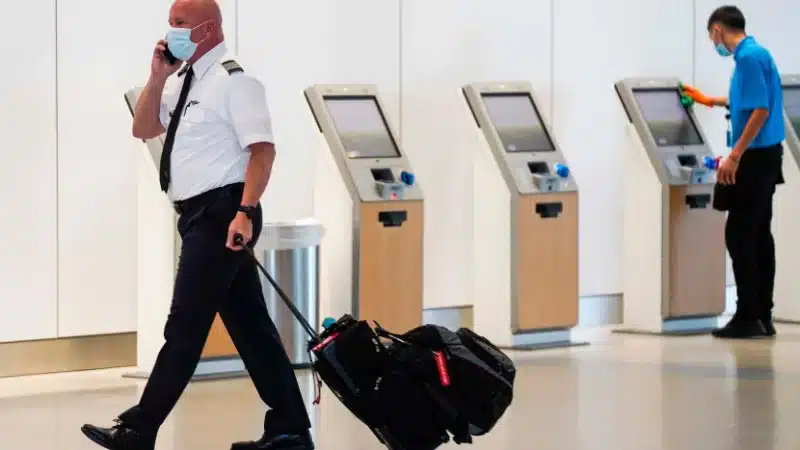 Organization Options
Pilot backpacks often feature organizational tools like elastic straps, mesh pockets, and dividers to help pilots keep their items separated and easily accessible. Choosing a bag with the right organization tools is important for their specific needs.
Choosing the right pilot backpack can make a difference in convenience, security, and comfort. By considering size, material, design, and organizational options, pilots can ensure they get the best bag for their particular needs.
FAQs
Do Pilots Use Hard Or Soft Case Luggage?
The choice often depends on personal preference and the specific requirements of the flight.
Pilots typically use hard case luggage due to its durability and resistance to harsh travel conditions. The hard shell protects the contents, especially during frequent loading and unloading on aircraft. However, some pilots may prefer soft case luggage for its lightness and flexibility.
Is There A Standard Color For Pilot Luggage?
No. However, while there isn't a set standard color for pilot luggage across the board, some airlines may enforce specific regulations or preferences.
For instance, a few airlines might mandate black luggage to coordinate with the pilots' uniforms, whereas others may permit a broader color choice. Predominantly, pilots gravitate towards darker shades like black, navy blue, or grey due to their resilience against dirt and stains and reduced likelihood of drawing undue attention.
To distinguish their luggage, some pilots may use brightly colored tags or straps, which helps prevent their bags from getting mixed up with those of other passengers.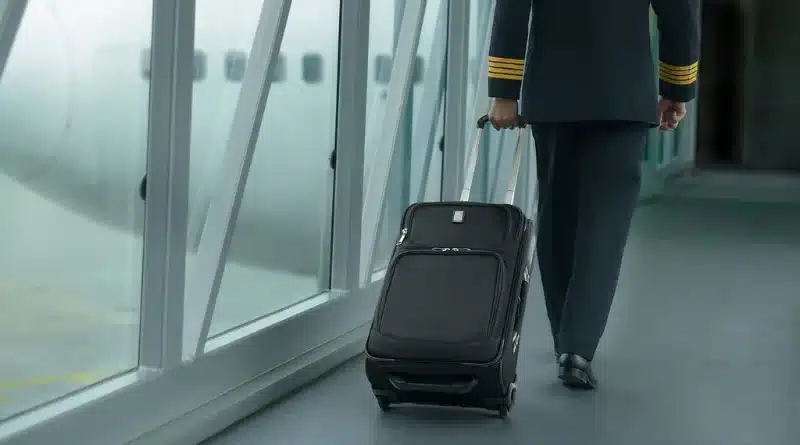 Do Pilots Use Different Luggage For International Versus Domestic Flights?
Typically, the type of luggage pilots use does not change depending on whether they fly domestically or internationally.
What matters most is the functionality and durability of the luggage. Pilots require bags that can withstand heavy use, have compartments for their necessary gear, and conform to airline regulations for carry-on luggage.
However, for longer international flights, pilots might carry additional items such as extra uniforms or personal items, which could require larger or additional bags.
Do Pilots Use Luggage With Wheels Or Without?
Pilots' preferences for luggage can vary widely, with some opting for wheeled luggage and others choosing non-wheeled alternatives. The decision often depends on individual needs, the duration of travel, and the type of belongings they need to carry. Wheeled luggage can be a practical choice for its ease of transport, particularly when carrying heavy items.
However, non-wheeled options may be favored for their often compact design, making them suitable for shorter trips or when less cargo is required. Ultimately, the choice between wheeled and non-wheeled luggage is largely a personal preference for each pilot.
Conclusion
What luggage do pilots use? Airline professionals typically gravitate towards durable, lightweight, and functional luggage.
They often opt for roller bags with robust wheels, sturdy handles for easy transportation, and pilot cases offering separate compartments to keep their items secure and organized. In essence, the type of luggage pilots choose is about marrying practicality with longevity to meet the rigors of their profession.